Ecobee 3 Lite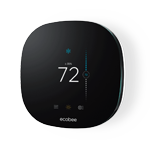 Bring home ecobee3 lite and save an average of 23% annually on your heating and cooling costs.

Effortless control at your fingertips.
Adjust temperature and comfort settings easily from your Android and iOS devices, including Apple Watch.
Free energy reports give you insights on how much you've saved based on run times and offer tips for further savings.
Engineered for energy savings. Designed for you.
Uses local weather and your system to take the least amount of time to cool or heat your home.
Vacation mode keeps energy use low and easy to adjust while you enjoy some much deserved time away.
Alerts and reminders offer peace of mind. ecobee notifies you right away if it senses something isn't working.
---
Honeywell FocusPro 5000
Non-Programmable Thermostat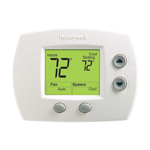 The FocusPRO® 5000 Non-Programmable Thermostat can be configured for up to two heating and cooling conventional systems and heat pump. The backlit digital display is easier to read in various lighting conditions. Seasonal battery replacement couldn't be any easier — just use the flip-out door.
Soft key controls
Display size options (large or standard screen size)
Five-year warranty
Professional installation
Large Backlit Display
Easy to read, even in dimly lit rooms and hallways
Easy-Access Battery Replacement
No need to remove or disassemble thermostat. Flip-out door offers easy access to battery.
Ecobee 4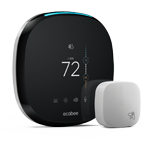 Be comfortable in the rooms that matter.
Most thermostats only read the temperature in one place (usually the hallway) which can make other rooms uncomfortable. ecobee4 comes with a room sensor to help manage hot or cold spots.
When you place sensors in your favorite rooms, ecobee4 can read the temperature and detect occupancy. That's how it ensures comfort in the rooms that matter

Comes with Amazon Alexa Voice Service built inside.
With Amazon Alexa Voice Service built inside, ecobee4 can perform the many 'skills' that come with Alexa. All you have to do is ask, and watch the blue light pipe on top of the thermostat blink in response. For total hands-free control, it can even hear you from across the room.
Not at your thermostat? No problem.
Comfort on the go
Adjust temperature and comfort settings easily from the ecobee mobile app on your Android and iOS devices, including Apple Watch.
Knows you have a life
Vacationing and forgot to let your ecobee know? Make a vacation event using the ecobee mobile app. If something's wrong with your equipment, we can send you service alerts and reminders.
Control the speaker and microphone
Use the app to lower your volume, or enable Privacy Mode (microphone off) if you want to give Alexa a breather.