Olson Comfort values and appreciates good quality air for all of their customers.
Your home as well as place of work should have clean air for better health.
Better health equates to less missed school or works days, more productivity, and longer life expectancy from breathing cleaner air.
Click here to Apply for Financing

Another benefit of clean air is having a cleaner home or work place. Less cleaning of the home or office saves time and money. Decorating costs are less, as well as lower operating costs for all appliances when they are kept clean. Computers, refrigerators, ect. All work better and last longer when their air moving parts are clean.
---
Light fixtures give off more light when they are clean. That way less lights can be turned on, saving energy.
A brighter space is also a more cheerful one, also improving productivity and mood.

Olson comfort is trained and certified to service and install a wide array of indoor air quality products, including:
Media Air Filters
Electronic Air Filters
Ultra Violet Light Systems
Central Water Humidifiers for forced air heating
Self Contained Water Humidifiers for homes without forced air heating
Central Steam Humidifiers
Central Dehumidifiers
Air Purifiers
Air to Air Heat & Humidity Exchangers
Indoor Air Quality Systems
breathe easier in your home.
---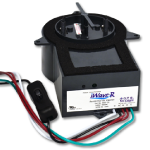 iWave-R Air Purifier
With technology installed in over 100,000 applications, iWave-R is the world's first self-cleaning, no maintenance needlepoint bi-polar ionization generator designed specifically for treating air in residential duct A/C systems. As the air flows past the iWave-R, positive and negative ions actively purify the supply air, killing mold, bacteria and viruses in the coil and living space. The ionization process also reduces allergens, smoke and static electricity, as well as controlling odors (cooking, pet, VOCs) and other particles (no more sunbeams) in the air without creating ozone or any harmful byproducts.
iWave-R treats the air in any brand of residential duct air conditioning systems up to 6 tons (2400 CFM) in size with no maintenance and no replacement parts. Designed for universal mounting, the iWave-R typically requires only 15 minutes to install inside or outside of duct, or to attach magnetically near the indoor fan in the air handler. Simply connect to power using its patent-pending voltage input capability. Install between air filter and cooling coil to treat the indoor coil; as an alternative, the iWave-R can be installed in the supply air. iWave-R always works at peak performance, producing over 160 million ions/cc, more than any other ionizer product on the market. Its patent-pending self-cleaning design includes a programmable cleaning cycle that can clean the emitter brushes every 1, 3, 5 or 10 days. The iWave-R is factory set to clean every third day which is adequate for a typical installation. iWave-R does not create "black walls" as negative-only ionizer products will do.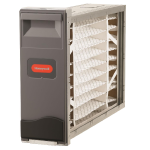 Whole-House Media Air Cleaner
The F100 Whole-House Media Air Cleaner is up to 85% more efficient at capturing both microscopic particles like dust and smoke in addition to larger contaminants such as mold spores and pet dander. This highly effective air cleaner also requires minimal maintenance. Basically, once you install the filter you only need to replace it every 6-12 months. That's four times longer than a standard one-inch furnace filter.
Highly Effective
This air cleaner is up to 85% more efficient at capturing airborne particles compared to a standard one-inch filter
Easy to Maintain
Lasts up to four times longer than a standard one-inch furnace filter. Replace every 6-12 moths versus monthly or quarterly changes.
Widely Compatible
Works with all gas, oil and electronic forced air furnaces and air conditioning systems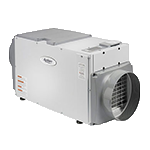 Aprilaire Dehumidifer
The Aprilaire Model 1830 Dehumidifier is a high-capacity solution that helps you achieve total comfort through humidity control. It is installed as part of your home's heating and cooling system by a local HVAC professional.
The 1830 pulls air from every room in your home through the return ducts. Then, it removes the moisture and sends dry air back throughout your home.
It works in conjunction with your air conditioner to efficiently balance the humidity levels in your home, but can also work independently on days when you don't need the air conditioner.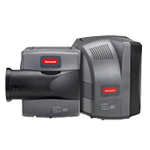 Honeywell Humidifiers
The TrueEASE™ Evaporative Humidifier is the perfect fit for your home. It eliminates maintenance hassles with easy-access pads and will save energy by eliminating the constant cycling of air.
Once installed, this humidifier will deliver comfort throughout your entire home using your central heating and cooling systems.
Automatic Monitoring
Automatically monitor home dryness, then only running water and air through the system when humidity is needed - saving up to 10,000 (model and system dependent) gallons of water per year.