A family owned business, Olson Comfort Services takes pride in offering the highest quality heating and cooling services. We are licensed, bonded, and insured.
Our mission is complete customer satisfaction. We strive to get the job done right, on time, trouble-free, and guaranteed!! Click here to see a list of our awards.
SERVING LAKE COUNTY ILLINOIS FOR OVER 30 YEARS
Olson Comfort is the preferred heating & cooling contractor of Vista Health Care for all their employees and their families. Olson Comfort is also the heating & cooling contractor of choice by the Chicago Area FBI, Kenosha Area Coast Guard, and the North Chicago VA. We have been chosen by many area libraries, city halls, fire & police departments, and churches & schools for their HVAC needs because of our high integrity, trust, honesty, and quality of work. This also true of all of our loyal customers.
Our Team is N.A.T.E. Trained & Certified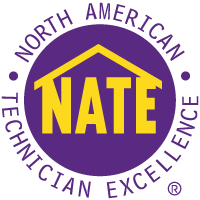 OUR STORY
Olson Comfort Services officially came into being on July 28, 1977. Five owners of heating oil companies in the Waukegan area needed someone to service their customers heating equipment. Most heating companies had stopped working on oil systems due to the popularity of natural gas as a cleaner and more efficient fuel for heating systems. The oil embargo in the Middle East had forced the United States to look for alternate means of energy. The generation of electricity by nuclear power plants made electric heat very attractive. These two factors contributed to the formation of Olson Comfort Services, Inc.
Things went very well for the next two years. But, as time went on, some of the partners needed to go their own ways. The remaining owners realized they were better at operating an oil supply business than a heating company. The industry demand for high-efficiency equipment and the new technological advances needed to reach those levels helped them in their decision. So they began to look for a buyer for their business. It needed to be someone who knew the heating business inside and out. This person must also be versed in central air conditioning with the rising popularity of indoor air quality. And, it must be someone with high ethical business standards who could be trusted with their customer lists.